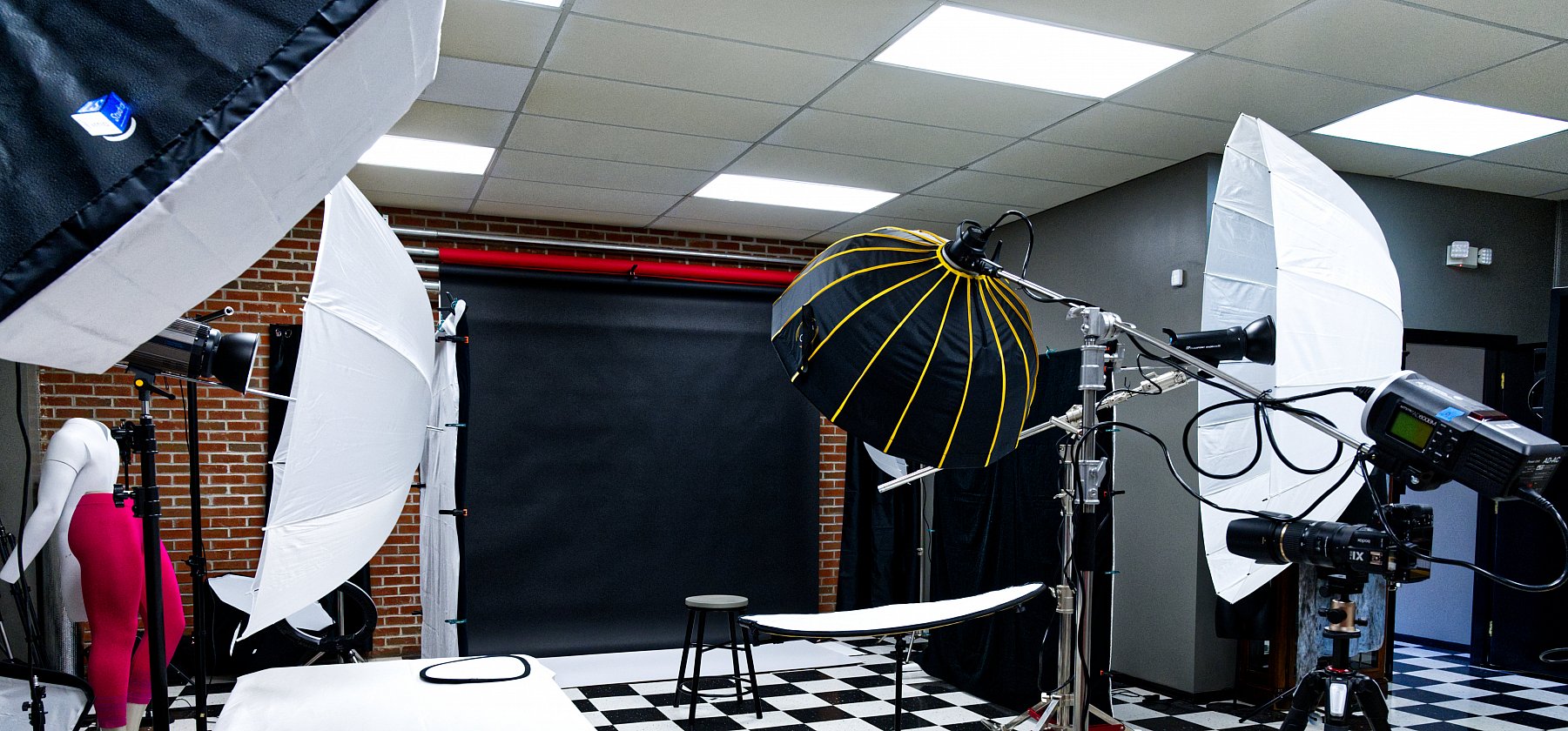 Perfect for Headshots, Portraits, and Products
This studio space is available to rent by the hour, half day or full day. And there's no need to drag along all your heavy equipment.

The studio is available with or without the use of a Pro Mirrorless Camera. All rentals include the use of various studio lights, modifiers, stands, and other accessories that will help to make your shoot run smoothly and be more productive.
What Is Included

(optional) Nikon Z7 or Z6 Mirrorless Camera (your choice) with Nikon 85mm 1.8 or 35mm 1.8 (your choice) and Godox X1 Trigger

Tethering Laptop with Adobe Lightroom or Control My Nikon (your choice) and Large Monitor Display

Godox AD600BM Strobe with AC Power and 72" White Diffused Umbrella
Godox MS300 Strobe (times 2) installed in 14"x66" Godox Strip Boxes with Grid (times 2)

Eyelighter-type 40" Reflector

10' Background Paper System with White, Black, and Red paper (addtl charges apply for paper used)
Miscellaneous C Stands, tripod stands, sandbags, stools, etc as needed when available
Full dressing room with lighted vanity

Victorian style sofa and several chairs of varying styles
Faux bed for product and boudoir shoots (must be requested at time of booking).

Hundreds of formal gowns, dresses and outfits, plus more than 100 pairs of shoes to go with them. Included with your rental.

Small section of real brick wall that makes a perfect backdrop for headshots and portraits

Three windows with afternoon sun for natural light photographers. Each window also has blinds and a light blocking curtain.
What You Need to Bring

Your camera unless you are using our Nikon Z7 or Z6

Any additional lenses if needed for your particular shoot. An FTZ adapater can be rented if you wish to use your older Nikon lenses.

If using our camera you will need a 64GB or larger XQD Card or equivalent USB thumbdrive to take your images with you. Which one do you need? If you will be shooting tethered, Lightroom allows you to store all images on the hard drive of the tether station. In this case all you need is a USB thumbdrive to take your images with you. If you are not shooting tethered, your images will be stored in the camera, so you will need an XQD card to take your images with you.
If using your own camera you will need to bring a Godox compatible trigger along with a short USB interface cable for your particular camera's port. You will also need all of the regular items such as lenses, batteries, storage media, etc.


A model or client

Things to keep in mind...
Furniture and other furnishings inside the studio (other than light stands and small chairs) are not to be moved.

Our strobes are all Godox and Flashpoint brand and work with the Godox X2 system. They will also function with the equivalent Flashpoint triggers. A Godox trigger comes with the Nikon Z7 and Z6 if you use our cameras.

Backdrop paper cannot be used without a separate fee.

Rental must be complete by 7PM unless other arrangements are made.

A cash security deposit is required to help cover anything that you break/damage/destroy/lose. Additional charges will occur if the loss exceeds the security deposit.

Someone from our studio will be present at all times during your rental.

Sunday rentals are possible but you must call to book.

RATES

This is a working studio, as such my rates reflect work that may be displaced by your rental.

Standard hourly rental rates: $95 per hour | WITH camera/lens/trigger $250 per hour

Half day/four hour rental: $300 | With camera/lens/trigger $450

Full day/eight hour rental $450 | With camera/lens/trigger $600

Late night and Sunday rentals extra when available

Book Now