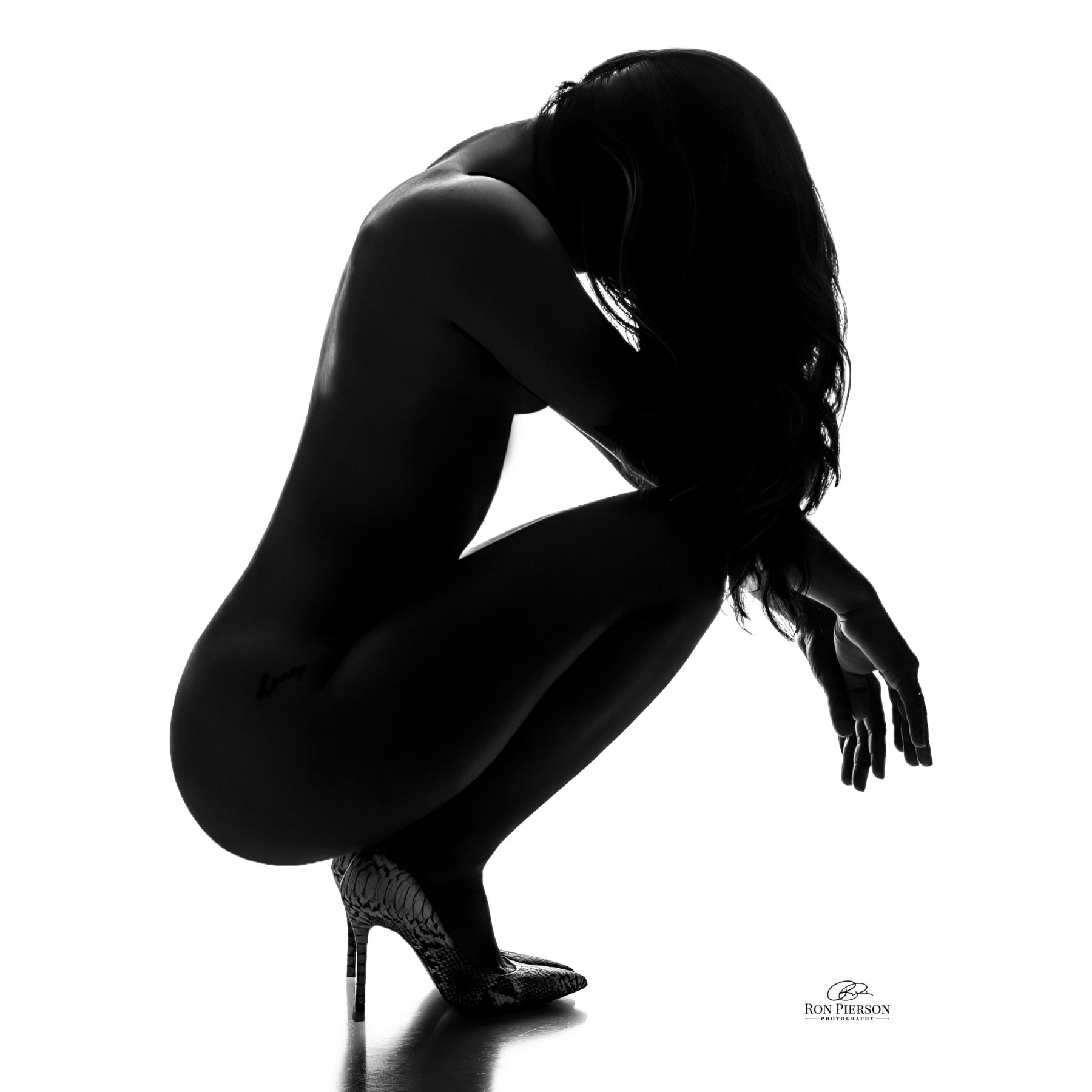 ​
VISUAL FINE ART INSPIRED BY YOU
beautiful fine art nude and semi-nude photography

Stunning Glamour, Boudoir, Bodyscape and Fine Art Nude Photography
With my work in Fine Art nude and semi-nude photography I have been truly blessed to work with such great clients, some have even traveled great distances just to work with me.

This page gives you a lot of information about the different types of Glamour nude and semi-nude photography that I offer. If you feel overwhelmed by the information or would rather just skip the read you can schedule a free no obligation pre-session consultation here.

What IS Glamour photography?

Glamour photography is a style of photography that emphasizes the beauty, elegance, and sensuality of the subject. It typically features models or individuals dressed in glamorous clothing and poses that highlight their body's natural curves and contours. Glamour photography is often used in fashion and advertising industries to showcase the beauty and allure of products or services.
There are several subcategories of Glamour photography genre that I offer, each offers its own unique style and focus, making Glamour photography a popular choice in my studio with individuals who want to capture and preserve their beauty and confidence in a stunning and artistic way.
Boudoir photography is a very popular Glamour subcategory, which is the creation of beautiful intimate and sensual images photographed either in lingerie, nude or semi-nude.

Nude and Semi-Nude Fine Art is also very popular among my clients since it lends itself to creative expression utilizing unique posing, lighting and props. The images are often very creative and thought provoking, sometimes even provocative, but always beautifully captured and artistic.

Fitness photography is another popular subcategory of Glamour photography and focuses on showcasing the strength and beauty of the human body, often featuring athletes or fitness enthusiasts. Dance photography falls within the Fitness subcategory as well.
Bodyscape photography is a genre of Glamour photography that focuses on the shape, form, and texture of the human body. These images are commonly used in advertising and promotions.
Whatever your preference, there is a type of Glamour photography that can capture your beauty and confidence in a stunning and artistic way. Whether you're looking for a glamorous portrait for your portfolio, a gift for a loved one, or simply images just for yourself, I'll create stunning Glamour shots that highlight your best features and make you feel like the confident and beautiful person you truly are.
BOUDOIR PHOTOGRAPHY

Boudoir photography is a style of intimate photography that captures the sensual and sexual persona of an individual.

By definition Boudoir photography is created in a private setting such as a bedroom, bathroom, or hotel room, and typically features the subject either in lingerie, partially nude or nude. Boudoir photography is a popular choice for women who want to celebrate their beauty and sensuality in a beautiful and artistic way. It also makes a thoughtful and intimate gift for a significant other, making it a popular choice for special occasions such as weddings, anniversaries, birthdays, and Valentine's Day.
Whether you're looking to celebrate your beauty or surprise your significant other with a thoughtful and intimate gift, I can create beautiful artistic Boudoir photos of you that you will cherish for a lifetime.

For more information on my Boudoir photo sessions click or tap here.

To schedule your pre-session Boudoir consultation click or tap here.
Fine Art Semi-Nude and Nude Portraits

Fine Art Nude portraiture is a form of artistic expression that allows for unique and creative representations of the human form. It's a fascinating way to explore and express yourself artistically.
In Fine Art Nude photography the body is completely nude or mostly nude. Sometimes the focus can be on just a small section of the body or it may be the entire body, depending on the image being created. Careful placement of lighting along with body positioning and camera settings are all used together to create a work of art that focuses on the body's curves, lines, textures, and other natural beauty attributes. My Fine Art Nude Portraits tend to have a classic, timeless aesthetic.​
Posing for a Fine Art Nude portrait can be a transformative and empowering experience that promotes self-acceptance, artistic expression, personal growth and freedom of expression.
It's an​ experience that can help you break free from societal beauty standards and expectations, and feel liberated in your own skin.​ Posing for a Fine Art Nude portrait helps promote self-acceptance and a positive body image as it requires you to let go of any insecurities and embrace your natural form, leading to greater self-confidence and self-love.

To schedule your pre-session Fine Art Nude Portrait consultation click or tap here. ​

Glamour Portraits

The primary differences between a Glamour Portrait and a Fine Art Nude Portrait lies within the composition, lighting and overall presentation of the subject and the final editing of the image.
My Glamour portraits may be clothed, partially nude, or fully nude. These images are always beautiful works of art, oftentimes with a more modern and sometimes even edgy vibe. Glam portraits can be photographed indoors or out, and may be themed but always convey the beauty of the photographed subject.

To schedule your pre-session Glamour Portrait consultation click or tap here. ​

Book Your Session
As you may already be aware, Glamour photography typically carries a hefty price tag. Not to worry!

I offer my Glamour photo sessions starting as low as $350. There really is no need to pay thousands!

I also don't charge a separate "studio fee" and there are no "buyout" fees for unlimited usage of your photos. In fact there are no hidden fees of any kind.

Each session includes a certain number of images and digital photos. Once your session is complete you can always add as many additional digital photos and prints as you like.
Please remember to arrive at the studio with hair and makeup ready for your session. If you would like more information about hair and makeup for a Glamour session click here.

My studio is equipped with a changing room with lighted vanity should you need to touch up your hair or makeup.

Pre-Session Consultation

The best way to find out which Glamour session package is right for you is to book a Pre-Session Consultation. When you come in it will give us the chance to meet one another and work through the fine details of your photo session. This helps to make sure everything goes perfect and you get exactly the types of images you want. The cost of the pre-session consultation is deducted from your Glamour session cost. Book Now

Location Packages

I'll be happy to photograph your Glamour session at the location of your choosing within 30 minutes of Dothan. Since these sessions require drive and equipment setup time that could be used to book other sessions, remote sessions cost a little more than a studio session. Keep in mind that if the location you choose is a hotel, motel, airbnb or other location with a fee, you are responsible for the room rental charges; they are not included in the package pricing.

To book your Glamour Session here at the studio or at another location of your choice schedule your pre-session consultation where we'll discuss and plan your Glamour session in full. The cost of your pre-session consultation is deducted from your Glamour photosession cost.
Book Now

My Glamour sessions do tend to book up fast, so don't wait. Give me a call, text, or email right now to schedule your pre-session consult and reserve your spot!

Studio and Location sessions available. Custom sessions too with options to fit every budget.

To book or for more information call or text 334-226-2622 or email sessions@ronpierson.comEditor spacer. This area is only shown when using the editor.